Thursday nights is Citykleta's weekly Vuelta de Noche, or Night Ride, where locals and tourists get together to pedal around the city by night. Thursday January 10th is the second Vuelta of 2019. It's been a few months since the last time I came, and I'm surprised by how much the group has grown: this time I join around thirty people at Citykleta's meeting spot, Ferlan's Bike Shop – a few more than the six who came the last time I attended. I wonder if it's because people now have 3G in Cuba and are more in tune with the events Citykleta promotes on social media, or if it's because the weather is cooler in January and people are more willing to leave their air conditioned rooms to pedal around the city… Either or, there's no doubt that the Vuelta de Noche is becoming a hip and happening bicycle event in Havana.
THURSDAY NIGHT RIDES WITH CITYKLETA
Getting Ready for the Ride: lights, vests, chitchat and music
I arrive a little late, around 8:15 p.m., to find the street in front of Ferlan's Bike Shop swarming with cyclists whose flashing lights and neon visibility vests ensure that you see them from a mile away. I approach to a warm atmosphere of relaxed and happy cyclists, chatting away in little groups, many of them having come with their friends.
It's Thursday night and they are all here for the same reason I am: to cycle, unwind and have a good time. A group of French tourists that doesn't speak a word of Spanish or English is joyfully mixed in with the crowd, communicating with sign language and what seems to be a mix of Spanish, Italian and their own language to the bike shop owner Ferlán. The Night Ride's guide, Yasser, is busying away distributing neon vests and bike lights to those who have none. Safety is always a priority in these Night Rides, and Yasser, ever the bike enthusiast, eagerly equips the new recruits to cyclists. Most of this gear has been donated by visiting clients, and contributes to the growth of our cycling community in Havana by providing much needed equipment to those who wouldn't have the means to obtain it themselves. Yasser's MegaBoom speaker plays some upbeat tune as the festive crowd gets ready: Vuelta de Noche regulars, newbies and tourists; Cubans, Europeans, Latinos and more; all joining together to ride around Havana at night, our bright lights and vests reminding the city that we, urban cyclists, exist.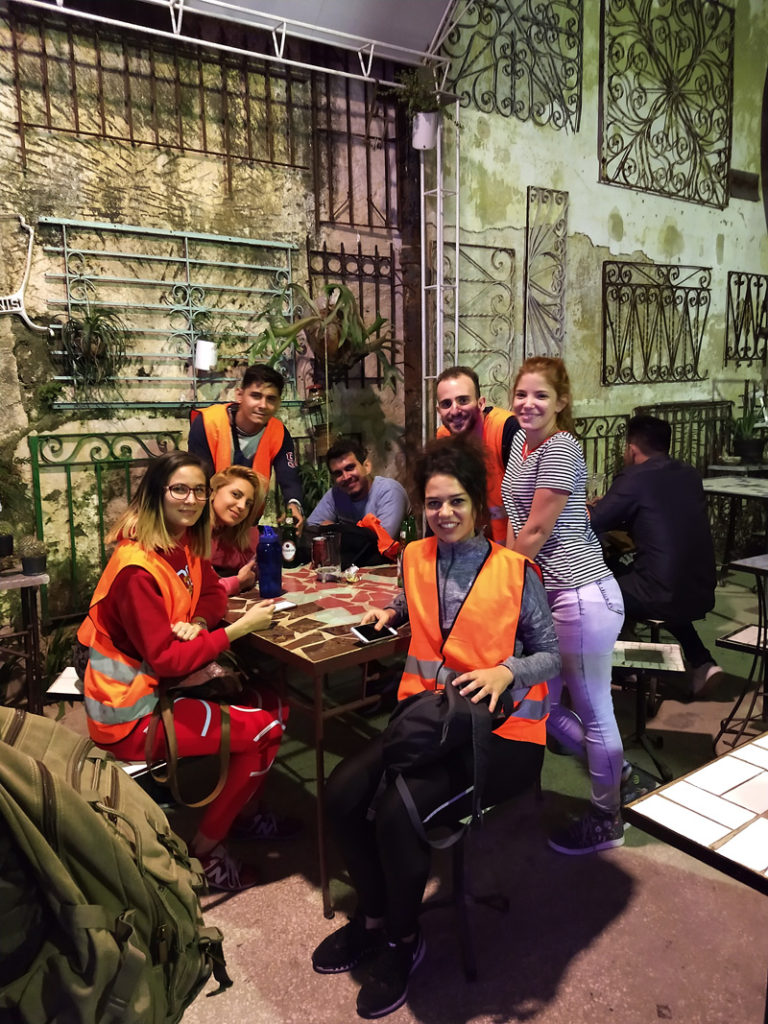 Before taking off, Yasser goes over some safety rules and then, following the Vuelta de Noche ritual, takes people's suggestions for the route. Where should we go? Some want to go to the Malecón. But a "frente frío" has just started (in Cuban, that means that it is "cold", as in 15-20 degrees Celsius instead of 25-30!), and the wind and waves crashing on the sea wall will soak us! Others want to go far, the Víbora! But some object to the hills… Better not to go in that direction then. Others want to get beers on Miramar's rocky beach, the Playita de 16. But someone tells us that with the bad weather it has become desolate lately and the kiosk there is out of cervezas. Finally the most popular suggestion is the ice cream shop, Helad'oro. Everyone seems down with the idea, what's better than a little nighttime snack during a bike ride? And with that, we are off towards Old Havana!
Interacting with the street life of Centro Havana
"Did you see that alley? How cool!" He keeps exclaiming. "What a beautiful alley! Did you see all the murals!"
Bracing ourselves to cross Centro Habana, we prepare for pot-holed streets, cats, bici taxis and reggueton music. As we cross through the Callejón de Hamel, a Mexican tourist is awestruck by the alleyway's art. "Did you see that alley? How cool!" He keeps exclaiming. "What a beautiful alley! Did you see all the murals!" Of course we did! This alley's story inspired a part of our Havana Underground Tour! Filled with Afro-Cuban artwork, colorful buildings, walls filled with paint, poems and Santería motifs, bathtubs recycled as art installations, oddly shaped sculptures… Mystical and funky, we're in Havana's most cherished alley; a place all the more magical at night, as the murals are lit up by our flashing white and red bike lights.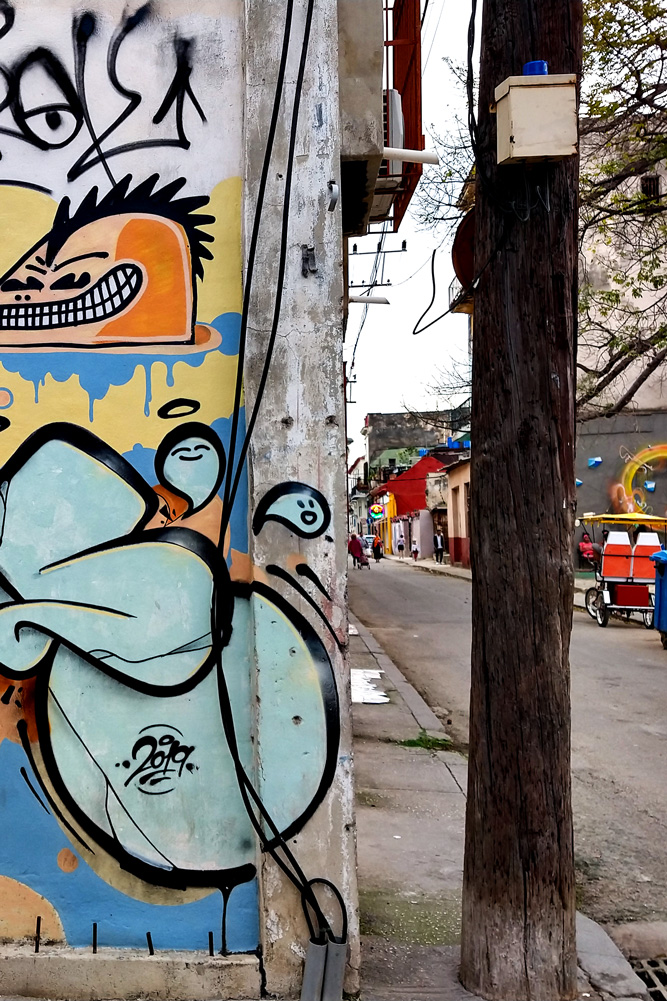 Explore our street art, night ride, local food and best mojito.
Evening in Havana
Bike Tour
Once we've passed the bubble of color that is the Callejón de Hamel, we penetrate a more desolate Centro Havana: dark, gray and crumbling. But despite the neglected streets and buildings, it is still filled with the same spirit that we found in Callejón: with or without mural paintings, Centro Habana by night is always mystical and explosive. Its people and places are filled with color and personality. As we advance through this part of the city, lighting up its dark avenues with our bike lights, we become part of Centro Habana, interacting with the neighborhood's street life, as every person, dog and cat reacts to our little bike parade.
Mama, Mama! Mira las bicicletaaaas!
Little kids look on wide-eyed and excited as all the blinking lights and cyclists zoom by, shouting "Mama, Mama! Mira las bicicletaaaas!", their faces shining with the obvious desire to join in the fun. The hustlers of Centro Habana call out to us, " Hello! My friend! My friend!", mistaking the group of cyclists for tourists, assuming that only foreigners would be weird enough to cycle around at night wearing neon vests. "Cubans don't do that sort of thing…", they think. But how wrong they are! More than half the riders are Cubans! And these respond "Asere, ¿qué bola?" to the hustlers' broken English.
Almendrones and guaguas honk at us, not knowing how to react to what they see as an invasion of their streets by this pack of jolly cyclists. They break and shout at us, overwhelmed when the leaders of the pack stand in the middle of the road, with bright lights and whistles, stopping the traffic to let their fellow companions cross the intersections safely. This is quite an anomaly in Havana. No one except the police usually dares to get in the way of traffic. Cars are the kings of the road here. Who do these little cyclists think they are? Why are they doing this? But others respect and admire us, staring with incredulity and fascination as we pass, thinking "how cool, I should get a bicycle!" You can't help but feel you are part of something big and important when you ride in a group that gets so much attention as it crosses the city.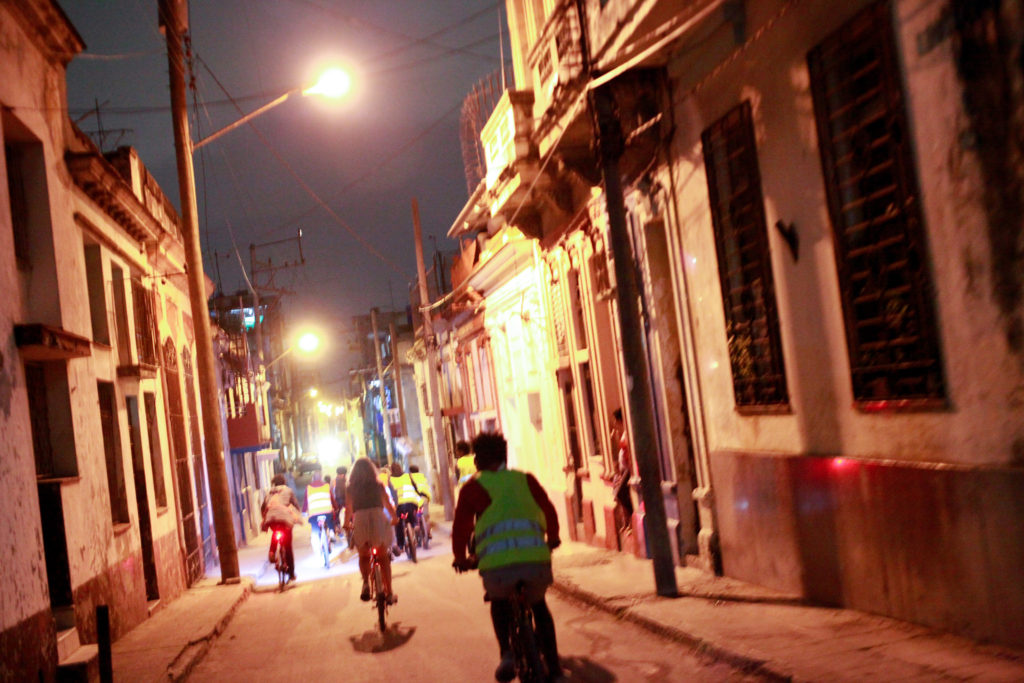 We move along in a chill and slow pace, accompanied by the African and Caribbean vibes emitting from Yasser's MegaBoom. This pace lets you talk to other cyclists as you ride along, to make new friends, among the tourists as well as locals. You meet those locals who are pro cyclists, geared up in athletic wear, regulars of the Vuelta de Noche and any other kind of bicycle event in Havana. You also meet those locals who are just learning to ride, still a bit wobbly, who came along because their friends told them to, and are experiencing for the first time the wonders of cruising around Havana by bicycle. And you also meet the tourists who are in constant awe, discovering Havana in a new light, or I suppose I should say the dark, as the city by night becomes a whole new world.
Old Havana: from dark streets to lit up Plazas
People regularly shout "Hueco!" to warn those who follow of a pot-hole, and "Gato" signaling the frightened cats trying to shoot across the street between all the wheels and blinking lights. The warnings are repeated down the line, creating an eco through the obscure Havana streets. The cool sea breeze tells us we are approaching the Avenida del Puerto, but before reaching the port, we cut back into the winding streets of Old Havana, immersing ourselves in a whole other universe. We explore one of Old Havana's unknown peripheral neighborhoods, San Isidro: dark and narrow streets bustling with night life, graffiti-filled walls, makeshift domino tables set up on the edge of the sidewalk, music playing at every corner, and funky murals looking down on us. We ride past the Parque de la Ceiba, where stands Havana's oldest Ceiba tree, next to a group of locals blasting los Van Van from speakers, competing with the chill African vibes playing on Yasser's MegaBoom. But the San Isidrians' sound system is stronger, and the Van Van's salsa orchestra steals the show for that half-minute we ride by. Adding a layer of sound, the stray dogs bark in chorus as we pass, trying to remind us that this is their territory. They relax a bit when they realize we are just passing through.
All of sudden, we stumble into another world: the black, unkempt and winding streets of the outskirts of Old Town open up onto a well lit, immaculate and lively Plaza Vieja, one of Havana Vieja's nicest squares. The place is filled with tourists, the bars are sparkling and stylish, the square is shining with splendor. The recently restored colonial buildings with their fresh coats of paint form a sharp contrast with the gray and crumbling Havana we just crossed. The pack of cyclists invades the square with its blinking lights. Civilized and respectful, we walk next to our bikes in this pedestrian area. Some start taking selfies at this picturesque stop, eager to share them directly on Instagram, as the very recent arrival of 3G in Cuba has just made this possible.
As we make our way out of Plaza Vieja, we ride through a more tourist-laden Old Havana, filled with nice cafés, bars and restaurants. The wandering tourists look at our bikes with envy. "What a good idea, we should cycle around Havana!" some French tourists say as we pass. You definitely should!
Ice cream and beers: the right way to finish a Night Ride
We finally make it to our destination: Helad'Oro. The sweet-toothed cyclists go in for ice cream as the others wait outside, their chitchat blending with Yasser's continuing Afro-Caribbean beats.
After the nighttime snack, we keep cycling, out of Old Havana, past the majestic Revolution Museum, down Prado, up San Lázaro, away from the sparkling Old Havana back into the dark and disheveled streets of Centro Habana. Some cyclists lament that we are reaching the end of the loop.
But there's a brief detour before the end! After a quick group picture in front of Maceo's statue on the Malecón, Yasser leads the pack to Calle Belascoin, smack dab in the middle of Centro Habana, into what looks like an abandoned and run down warehouse… Inside, the big warehouse is filled with old antiquities for sale: old gates hanging on the wall, old phones, typewriters, sewing machines, pots, pans, chairs, gates, fences, doorknobs… A carpenter's workshop filled with piles of old furniture and utensils. And out of nowhere, amongst all this vintage mess and rubble, a handful of tables sprawled around a bar selling beers and cocktails, lit up with green and blue disco lights. Music playing. Locals from the barrio dancing and playing dominos. This is Havana. Hidden spots in random places that no one expects, where you find a bizarre mix of the most eclectic things, people and styles. Good thing our bikes take us to all these places! And that the Night Ride finishes with a drink!
Our bicycles invade the Warehouse-Antiquities-Bar (called Bar Balazo, so we are told) just as they had invaded Plaza Vieja. The domino players and salsa-dancers pause and stare at us as we casually park our bicycles alongside the rows of old gates, fences and typewriters. The neighborhood's street dogs, cozy inside the warehouse amongst all the rubble, look at us curiously. They seem to be telling us they will guard our bicycles carefully as everyone winds down and orders a drink, settling at the tables, chatting and mingling with the locals at the bar. However, as the cyclists insist on keeping their neon vests on, they never manage to completely blend in with the Centro Habana crowd. They seem to want to rock the cyclist fashion until the end: with or without bicycles, no one should forget that they are cyclists on the Night Ride, even when taking a break for drinks.
It's someone's birthday and the DJ of the Warehouse-Antiquities-Bar plays the Cuban version of Happy Birthday, a highly rhythmic version that invites everyone to get up and dance along. The cyclists make a train behind the birthday girl, dancing, shaking their bodies to the rhythm and singing along "Felicidades! Felicidades!". This quickly becomes a salsa party, where locals and cyclists start busting out their moves and dancing casino. What a good way to celebrate a birthday. And on top of it all, it's also Citykleta's first birthday! One year of tours and events for locals and tourists. One year of cycling, work and fun. What a great Night Ride to commemorate that!
And what a great way to spend Thursday night! At the end of the night, you've cycled, eaten ice cream, discovered new parts of the city at night, met new people, and danced salsa in a random bar! You can go to bed without any regrets.
Eager to join in? Participate in a Night Ride!
There's more of this in our Instagram