Notice about our bike tours
Our paid experiences and tours aren't temporarily available.​ We are very sorry.
Citykleta uncover Havana for you with fun bike tours, and this helps us to promote urban cycling with events and education.
Citykleta is a social-impact business in Havana that promotes cycling in Havana through bike tours and events for locals and visitors, alongside local projects focused on the community and the city.
Havana Underground
We will witness the real Havana by bike.
The
Enchanted
Forest
Let's explore Havana's Forest by bike.
Havana
by Bike
Bike from site to site and see the best of city.
Evening
Colors
When people stop working and start chilling.
What a fun thing to do! This was a different way to see Havana and also get a little exercise. The route was easy and Bryan had so much information he shared about the history of Cuba. He clearly knew his stuff. We also were able to chat about current events and helped me understand more about the Cuban lifestyle and mindset. Highly recommend this tour!
My trip with Emy was my ultimate highlight of my trip in Havana. She knows every bits n bites in the city and she talks about it with such a lovely attitude. She speaks perfect English so getting to know the real Havana was super easy with her. Thank you very very much for this experience and I hope we meet again on my next trip to Cuba ❤️
My wife and I had a truly wonderful time on this experience. Javier, our guide, took us to places we likely wouldn't have found on our own, a couple of which we returned to throughout our time in Havana. He had in depth knowledge of the places we visited and connected that knowledge to the history, culture and social conditions of the city, which made the experience truly magical. My wife got a flat on her bike, and he resolved the problem like a pro. A must do in Havana.
Get inspired to cycle in Havana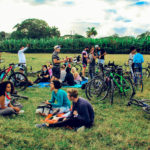 Citykleta started 2021 with a bang, kicking off the year with its newest trendy event: the Bicipiknic musical (musical bicycle picnic). In an abandoned field in Havana's deserted Metropolitan Park, people on bikes came from all parts of the city, gathering to enjoy Havana's green spaces in a social afternoon of food, music and of course, bicycles.
Be part of the movement -
support local cyclists.