Cycling is the ideal way to get around in Havana. It's a natural opportunity to show you, as visitor, different layers in Cuban life. This help them orient themselves and have fun in the bike ride.
Thematic bike tours in Havana: Don't miss out on the wonders Havana has to offer, bike from site to site with a local expert and see the best of city. Bike tours are the most unique things to do in Havana led by inspiring Cubans. 550+ verified Reviews.
You will undoubtedly have an unforgettable experience of Havana. Our tours are full of fun and laughter, after which you can truly say you have seen the all of the city.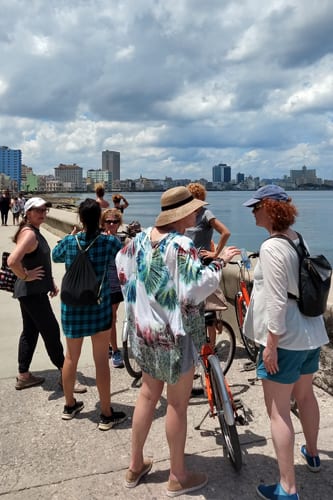 Destinations on our bike tours in Havana
Our bike tours cover most. It is a mus to do
Parque de los Mártires.
Callejón de Hamel.
Chinatown.
Parque Cristo.
La Marca body art gallery.
El Malecón.
Vedado neighborhood.
University of Havana.
Very local bar.
Hotel Nacional.
Plaza de la Revolución.
Cemetery of Columbus.
Boulevard de San Rafael.
San Isidro Art District.
Bar de Lucas.
La Guarida Rooftop.
Fábrica de Arte Cubano.
Hemingway's Floridita.
Hemingway's Bodeguita del Medio.
Hemingway's Hotel Ambos Mundos.
Guest Reviewed our bike tours in Havana
Our guests comments about our bike tours around Havana.
Di Hu (Shanghai, China) says: "Bryan is a great host! He helped us with the bikes patiently and accommodated to our speed all the way. He also shared a lot of stories and great insights about Cuba/Havana. The forest we went to is amazing as well. Highly recommend this experience!"
Javier Linares (Geneva, Switzerland) says: "This tour was by far my favorite experience in Havana. Bryan gives you a totally different perspective of the city. He is very open minded and super friendly while having a very professional behaviour. More than a tour, it was a discussion about this city, Cuba in general."
Floris Janssens (Schiedam, Zuid-Holland, Netherlands) says: "I didn't really know what to expect, but it was definitely worth it. Bryan is very passionate about this experience and knows a lot about the city, the park and the history of both. He brings you to cool places you would never find by yourself. He'll educate you about Cuba too. I perfectly enjoyed my time!"